Collect customer reviews & grow your business.
Take your business to next level with FindShop. Our review collection & marketing automation tools engage more users and generate better leads.
30-day risk free trial. No credit card required
Better leads & more sales
Get your own search engine optimised business listing page. Our AI based data-driven tools increase your business visibility on FindShop social-discovery platform as reviews pour-in from your customers.
More than 80% of online shoppers read user reviews while making a purchase decision. So, invite your happy customers to share their feedback to see the benefits.
Learn More
Features
Track Performance
View user & activity for your business listing & social media.
Manage Listing
Easily manage or update your business listing details.
Collect Reviews
Invite customers to write reviews & reply them.
Highlight Offers
Share your exclusive offers or coupons to push sales.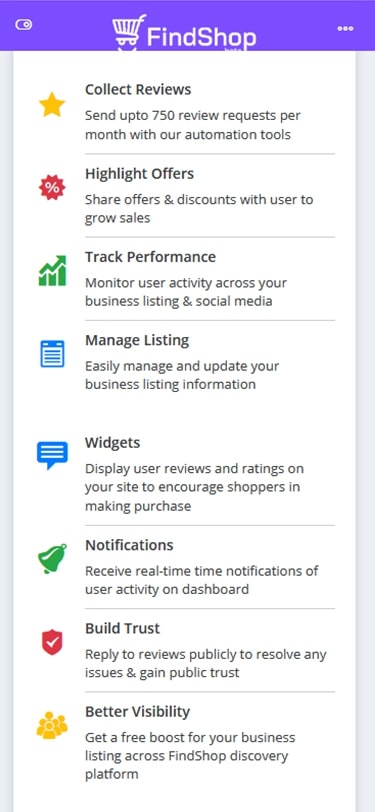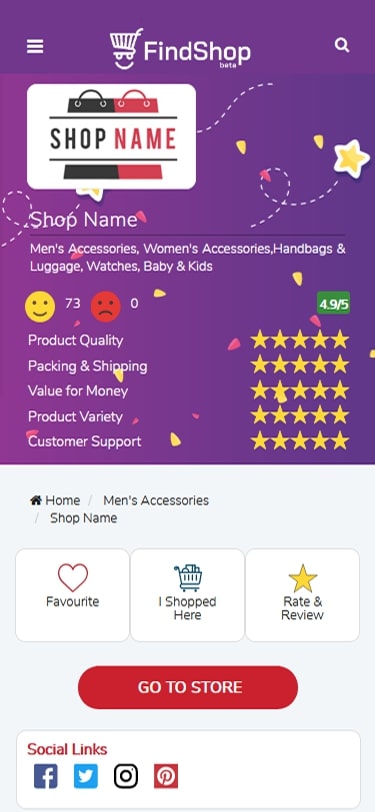 We have so many benefits
More Visibility
Boost for your business listing across FindShop social-discovery platform.
Improved SEO
Unique original reviews improve brand visibility & SEO.
Trusted Reviews
Invite linked reviews are marked verified and get a trust badge.
Improvise
Genuine user feedback helps you to identify issues & improve your service.
Increase Conversions
Users are more likely to make purchase decisions when shown past customer reviews.
Stay Ahead
Automate user engagement activities using our tools & accelerate business growth.
Why Choose Us?
Social Push
Share positive reviews on your business social media pages automatically to encourage potential customers.
Build Trust
Reply to reviews publicly to resolve any issues & gain public trust.
Showcase
Display on-site review widgets to encourage shoppers in making purchase.
Get Notified
Get real-time user activity notifications on dashboard.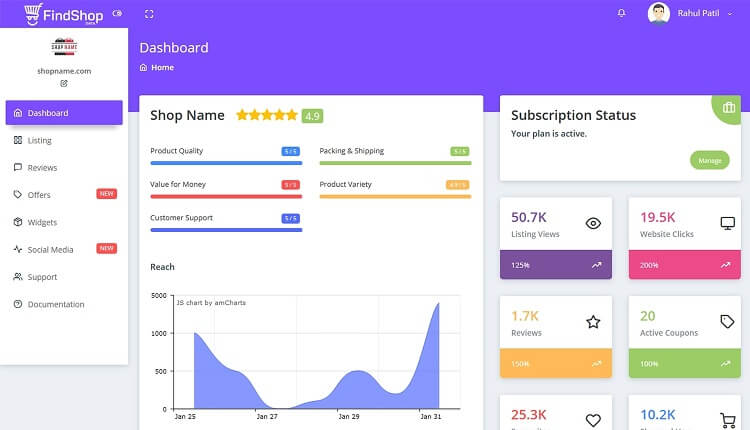 Simple & Transparent Pricing
Try FindShop Pro for 30-days. No credit card required!
Limited Analytics
Widgets
Brief Weekly Reports
Improved SEO
Send upto 750 review Invites using Email or SMS
Review Replies
Real-time Notifications
Highlight & Share Offers
Listing Management
Social Media Sharing Automation
Comprehensive Analytics
Widgets
Complete Weekly Reports
Improved SEO
Send upto 750 review Invites using Email or SMS
Review Replies
Real-time Notifications
Highlight & Share Offers
Listing Management
Social Media Sharing Automation
All features from pro plan
Unlimited review invites
Highlight unlimited offers
Unlimited social sharing automation
Higher listing visibility
Custom templates for reviews invite
Facebook Ads integration
Custom APIs
Priority Support
FAQ's
Here are the answers to some of the most common questions we hear from our appreciated customers.
Who can use FindShop business?
FindShop is ideal for online businesses.
What are the benefits of collecting reviews?
Collecting customer reviews has many advantages. It's a powerful marketing tool that helps businesses to build user trust and improve sales conversion by over 30%.
How quickly can I see the benefits?
If you use widget on your website, you may see instant improvement in on-site conversions. It takes about 3-4 weeks to see long term benefits.
Is there any limitation on trial subscription?
No, it is same as paid plan.
I can see my business already listed. What now?
Great. Sign up & claim your business to start using our platform.
Is there any integration involved?
Can I invite past customers?
Yes, we strongly recommend that. You can easily send review request emails from control panel.
Can I cancel the subscription?
Absolutely, anytime. There are no long-term contracts.
What happens to my data if I cancel the subscription?
Nothing. You will be automatically switched to free plan with limited features. Your business listing page & customer reviews will not be affected.
Can I get a refund?
Unfortunately, no. We offer 30-day risk free trial to help you decide. If you cancel during active billing cycle, you can continue using paid features till the end of billing cycle.
Which payment methods & currencies are supported?
Subscriptions are managed through PayPal. All major credit cards are accepted. We currently support payments in US Dollars or Indian Rupees. Contact us if you want to pay in different currency.
I have more questions.
Please email us on biz [At] findshop.co. We are more than happy to answer any other questions you might have.